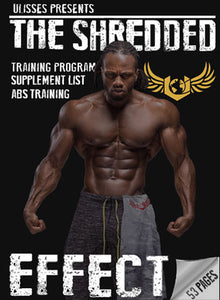 The Shredded Effect
Regular price $52.00 $13.00 Sale
The Shredded Effect is my newest Workout Program, where I share everything I know about getting shredded with you! There's going to be no more disappointment for you, everything is done for you, all that's left to do is follow my program step by step. By the end of this book you will have achieved:
More ripped abs 
Broader shoulders to give you the ultimate beach body X frame 
Increased muscle definition 
Your friends will be asking what you've been doing in the gym because the results will be so obvious for everyone to see. If you really want these kind of results then The Shredded Effect is the only place to start, you're getting all of my knowledge which has made me one of the most followed fitness models in the world! 
Here's what you're going to receive when you buy The Shredded Effect: 
12 week training plan which is guaranteed to make your body change 
12 week diet plan which has been proven over and over again to strip the fat away
My new 12 week core training program for more defined abs 
Get The Shredded Effect NOW and get started with me!